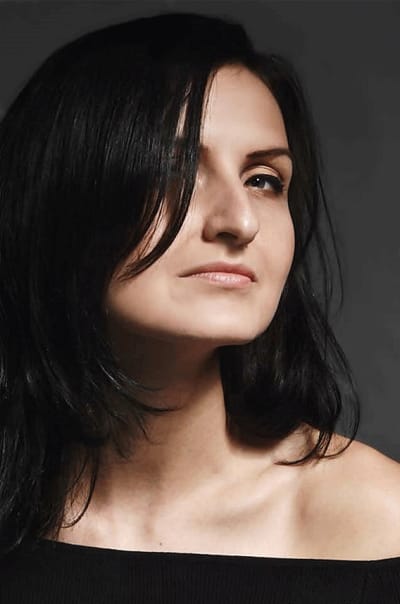 Joanna Organisciak – 'Hope and Debut of 2015' – according to an influential fashion journalist, Michał Zaczyński. Graduate of the Cracow Schools of Art & Fashion Design  and  Scenography at Academy of Fine Arts.
Her first collection IDENTITY won the Grand Prix of the prestigious competition GOLDEN THREAD 2015. It was quickly followed by further awards and distinctions: the Silver Thread, European Fashion Union Award, Hush Warsaw, Cracow Fashion and Łukasz Jemioł Awards.
In her unique manner she combines classic and modern where traditional forms undergo constant and skillful deconstruction to obtain ambiguous, sculptural, flattering silhouette.
Organisciak's designs are timeless: spectacular in their simplicity yet comfortable to wear. She offers the style beyond short seasons and temporary trends, fully advocating the philosophy of slow and no waste fashion as the individual pieces of her collections are easy to combine and add to to build highly original wardrobe.
The highest quality natural fabrics, limited colour palette and refined details underline Organisciak's distinguished designs.
FASHION SHOWS

Cracow Fashion Awards-premiere – 03. 2015, Cracow
Cracow Fashion Awards-gala – 03. 2015, Cracow
Poznan International Fair – 09.04.2015, Poznan
Silesia Fashion Day – 25.09.2015, Katowice
Golden Thread – 02.10.2015, Lodz
European Fashion Union Award – 25.10.2015, Budapest
Gala Kobiet Sukcesu – 01.12.2015, Warsaw
Fashion Stage Open'er – 29.06 – 02.07.2016, Gdynia

Poznan International Fair – 28.02.2017, Poznan
Cracow Fashion Week – 19.03.2017, Cracow
EXHIBITIONS
National Museum in Cracow- "The other side of things. Polish design after 1989" – 06.04-19.08.2018

Poznan International Fair – 02.2017

Royal Castle, Kubicki Arkady

– Hush Warsaw – 06 &12.2015

Museum of Municipal Engeneering

– Step BY Step – 03. 2015

Pauza IN Garden –

Photography exhibition

WHAT'S UP – 03. 2015

Museum of Municipal Engeneering

– SAPU Creative – 03.2015